SUS Reset
SUS Reset



Current Version: 1.5
OS:2000, XP, 2003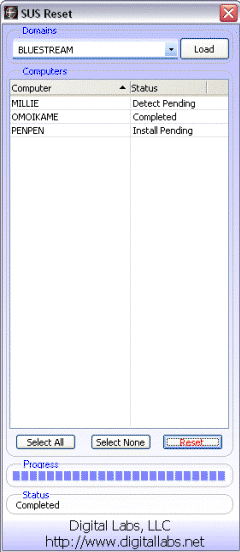 SUS Reset
aids in Windows patch management by resetting the Auto Update service status on all or selected systems in your network.
This will help ensure that when patches are installed, all the current patches for that system are applied, rather than having to go through multiple rounds of patching.
Key Features
Works in a multi-domain environment
Shows the current automatic update status of each system
Can reset thousands of systems quickly and easily
Prevents you from having to install queued patches only to find new patches are loading almost immediately
Can also simply show which systems aren't fully patched because they have patches queued to be installed
Limitations
Please note that SUS Reset only worked with Windows Update version 1 primarily. SUS Reset does not work correctly with Windows Update version 2 or Microsoft Update, which is primarily the service used since 2004. This product is listed for historical reasons only.