WebHead
OS:NT, 2000, XP, 2003, Vista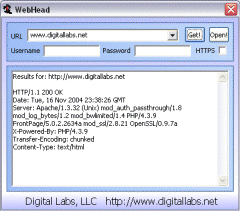 WebHead is used to help find information returned by a web server that you would normally not see. With it you can view the HTTP Header information returned for a web page.
Key Features
Connects to a web server and pulls back all HTTP headers for any particular page.
Helps in web server and web site troubleshooting.
Supports HTTPS encryption along with using usernames and passwords.